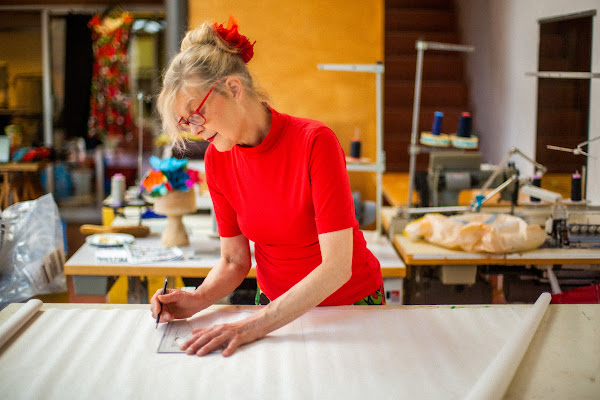 Flauwers by Anne
FLAUWERS FAIR FASHION
FLAUWERS BY ANNE DESIGNS TIMELESS FASHION THAT COLOURS YOUR LIFE.
THE CLOTHING IS MADE IN A SMALL EDITION IN OUR OWN STUDIO IN UTRECHT WITH LOVE AND RESPECT FOR PEOPLE, ANIMALS AND NATURE. FAIR FASHION STARTS WITH THE BASICS AND THAT IS WHY FLAUWERS BY ANNE USES MAINLY ORGANIC FABRICS.
WITH ALMOST FORTY YEARS OF EXPERIENCE AS A COSTUME DESIGNER IN THE THEATRE WORLD, THE UNIQUE SIGNATURE OF DESIGNER ANNE LAUWERS CAN BE SEEN IN THE CLOTHING OF DESIGNER ANNE LAUWERS. THE DESIGNS ARE CHARACTERISED BY PLAYFUL DETAILS, ORIGINAL FITS AND A GREAT LOVE OF COLOUR. HER GREAT LOVE FOR COLOURFUL FLOWERS.
*
MISSION
WE CARE ABOUT THE WORLD AND WANT TO MAKE BETTER CHOICES TO SAVE THE ENVIRONMENT. SAVE. THAT'S WHY WE MAKE YOUR CLOTHES IN A FAIR WAY AND TO MEASURE. THIS IS HOW ENJOY YOUR CLOTHES LONGER OF YOUR CLOTHES AND ARE LESS LIKELY TO THROW THEM AWAY. YOU LOVE COLOURS AND FLOWERS AND LIKE TO WEAR SUSTAINABLE CLOTHING WITH BADNESS. IN SHORT, AN HONEST STORY.
"FASHION IS WHAT SUITS YOU BEST".
(ANNE'S GRANDMOTHER)
Flauwers by Anne