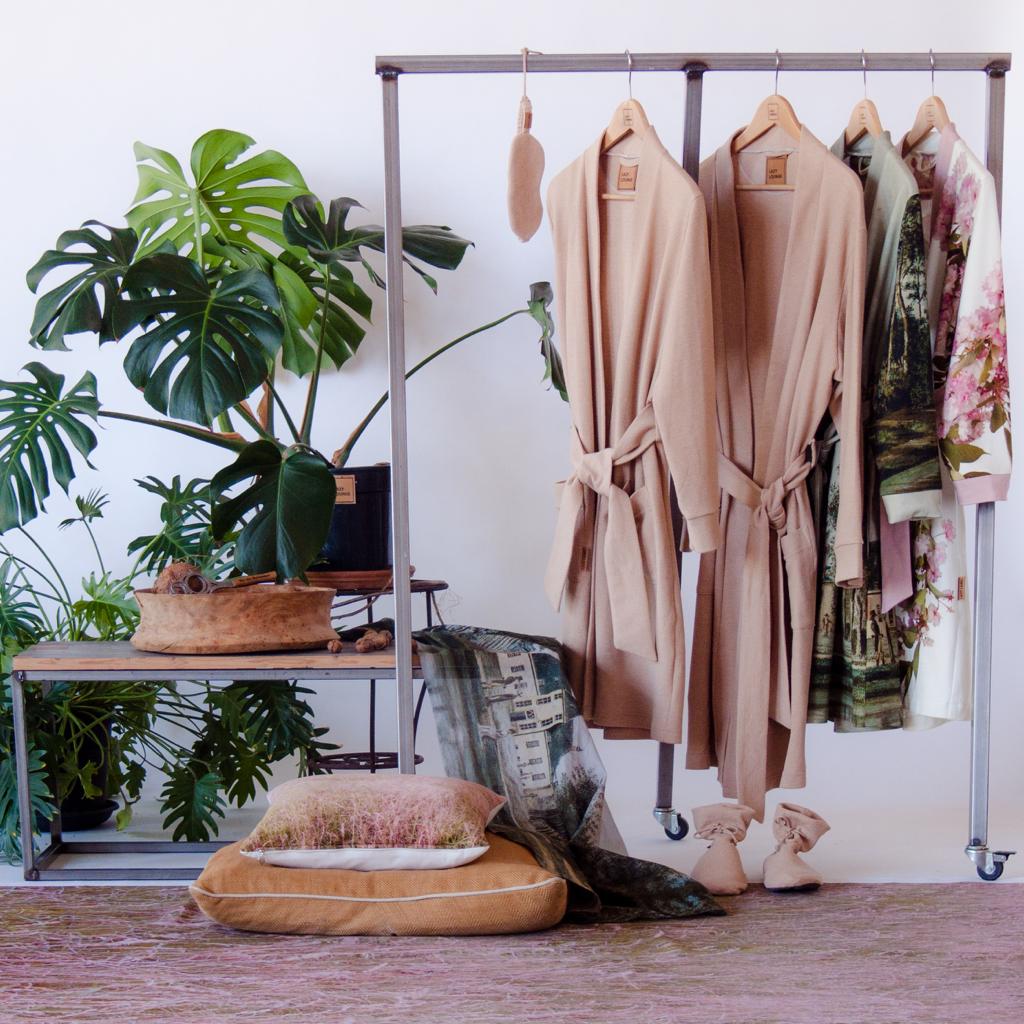 LAZY LABEL NETHERLANDS
About Lazy Label
Lazy Label was founded in 2018 out of passion for design and customization. I started with lounge clothing and accessories because I want to contribute to the well-being of people. By offering comfortable clothing, where people can spend their own time and cherish. In which people take the time to recharge themselves. To get back to work with renewed energy.
For this concept I contacted an eco textile expert Roosmarie Ruigrok.
Roosmarie and her organisation Clean & Unique brought me into direct contact with the Organic Cotton Colours fabrics where cotton in its original colours, other than ecru white, is processed. This means that the fabrics no longer even need to be dyed. Making use of this purely natural diversity from the cotton plant has thus become a spearhead. This makes the collection eco-friendly, fairtrade and at the same time beautiful.
I have also chosen to work with a tailor in the Netherlands. A Syrian status holder, Bandar Abdulmoula from Olst, who now owns his own sewing studio in his home town. Together we can build every design from the ground up and incorporate the values we consider important into our clothing. My acquaintance with and love for textiles started at a young age. As a 6-year-old girl I learned to make clothes on my grandmother's hand sewing machine, at the age of 17 I made my own wardrobe and I recreated my father's motorcycle jacket for my friend. After that I bought clothes for years, with more and more dissatisfaction about the polyesther content in fabrics, until it really started to itch again and Lazy Label started to show itself in my head and hands.
The lounge textile concept has an important creative message at the same time. I have developed design workshops in which participants create their own fabric designs under the guidance of artists. I also create new designs in my own studio. The client delivers photos and texts himself. A design is designed and printed on fabric via colour printing on demand.
The aim is to create a living room and to contribute to a creative and solution-oriented world, to a good life full of meaning. With beautiful textiles to surround us with.
Attention to what surrounds us is the general focus that should lead to success for all concerned. Founder Lazy Label Mannie Klijn Velderman
Lazy Label